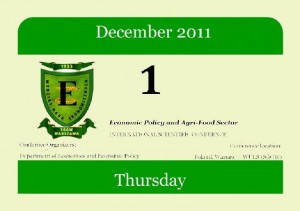 International Scientific Conference "ECONOMIC POLICY AND AGRI-FOOD SECTOR"
We kindly invite you to participate in the conference "Economic Policy and Agri-Food Sector", which is the third one from series of conferences on general topic "Changes in Agri-Food Sector in European Countries".
Conference location:
Warsaw University of Life Sciences
166 Nowoursynowska St.
02-787 Warsaw, Poland
(more information…)
Important dates with regard to the conference:
30.06.2011 – Application for the conference participation and deadline for full paper submission
30.07.2011 – Notification of acceptance of paper and return of reviewed paper
15.09.2011 – Deadline of payment of conference fee
Main topics:
1. Economic theory and economic policy.
2. The Common Agricultural Policy (CAP) – evolution, effects and necessary directions for reforms.
3. New problem areas of economic policy for an agri-food sector.
4. Policy for rural areas.
5. The State and an agri-food sector.
6. Impact of macroeconomic policies (monetary, fiscal, exchange rate policy) on agri-food sector.
7. Shaping the agri-food system at the global level.
8. Economic theory challenges in explaining and recommending economic policy solutions to agri-food sector.
Secretary of Confernce:
Melania Nieć MA, phone. (+48 22) 593 40 32
Department of Economics and Economic Policy
e-mail: kepg_konferencja@sggw.pl
fax (+48 22) 593 40 31
Download more information: